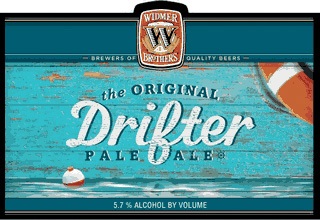 You ever have one of those beers that the title coupled with the beer just has that appeal. For some, the downtown Specs had this huge display of "Drifter" in the corner near the freezer. A pale ale from Widmer should not disappoint. I just love that name "Drifter". Anyway...
Beer Log: February 26, 2009
State: At the house
Widmer Drifter Pale Ale
The Brothas give me a very orange citrus and piney hop nose. Strong tinged orange head with Baylor Gold clear color. The first thing you notice is the medium body followed by the rush of bread and citrus hops. (Ok, I must have been off b/c I get a lot more maltiness when I drink Drifter now...). Good tailgating beer. Funny how smells prepare you for a harsh hop and the taste doesn't deliver. It has a pretty quick finish as well. 3 Star.
Jomo Lager from
Starr Hill
A Karrin Stefans amount of head with an orangish chill haze appearance. I get that caramel maltiness sweet smell that's kinda gentle. I think it soured and skunked up on me a bit. We got this one from a trade with a dude in Virginia and forgot about it. We've since put our low ABV stuff in one cabinet and the high ABV in another cabinet so we remember which ones to get to first. Back to the beer, I get some caramel and bready pilsner on the flavor. It has some bitterness but not biting. It's aiight. 2 Stars.
Terrapin Rye Pale Ale
Copped this one in Hotlanta on a trip to Georgia Tech. Terrapin is brewed by the dudes in Athens, Georgia (or Jawhja if you went to U(sic)GA). Copper color with white basic head. Nose is a little crisper with malt and bread. (then again I have a stuffy nose). High carbonation with some bite from the spice and the hops. Very tingly but not all that inspirational. Low 3 Star.