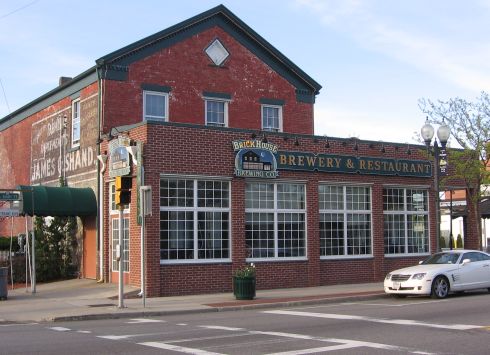 The day after Christmas the wife and I hop in the car to drive from the Baltimore area to knee deep in Long Island, in Holbrook. It rained most of the way and I think I spent more money in tolls than Gasoline just getting through Delaware. The anal rape that is the northeastern toll road scene is ridiculous. It had to add a good HOUR to the trip, having to slow down every time the highway went over a damn puddle.
So we get there and have a late lunch at the
Brickhouse Brewery
in downtown Patchogue. I'm loving how our travels in beer have taken us now to Long Island, just a couple months after places like Oktoberfest. Looking for local beers and breweries a fantastic extra dimensions and a sense of fun for what could be the most mundane of trips.
We get seated in the back what damn sure is a brick structure, plenty of murals on the wall of probably what Patchogue looked like back in the olden days. Reading the history of the brewpub, we learn that this location was a dry goods store in the 1800s and was even a stop on the Underground railroad. How great is that.
I ordered up the meatball hero and some crab cakes while the wife gets a cheeseburger, and it's game time with a six beer sampler. I left my little notepad on the plane home, so hopefully I can remember all of this...
Street Light
Your basic light pilsner with a decent amount of toasty malt and hops. Like most samplers, I don't get much of a head and thus much of a scent. But everytime I try to smell these beers, I get the cinnamon from the pumpkin spice beer on the corner of the sampler tray, so everything is a little off. But a nice introductory beer for BMC drinkers.
Boys Red
Reddish amber color with a great malt, toast, and lightly hopped. Probably one of the better ambers I've ever head. Certainly the best on the menu.
Fresh Hop Kitty
At first sip I go this heavy headed beer to be a lighter cascadey hopped English IPA, but on the subsequent drinking the strength came out as it warmed up. Certainly a very American IPA and almost West Coast strength. Something I'll rarely get much of on the East coast. Very well done.
Nitro Boom Stout
Strong roasty coffee nose and flavor. They nitro'd this one, so it was very smooth and low carbonation. I think this would be a great one for those that drink coffee and claim they don't like beer. The bitterness reminded me of pure unsweetened chocolate, not the candy bar version.
Blitzen
A jacked up beer that had a lot going on, pretty complex and cinnamon sweet. Memory fading...
Pumpkin Spice
A smooth beer, probably poured with nitro, that had cinnamon sprinkled on it. Orange colored with a lasting white head and cinnamon all over it. For some reason, whenever I taste straight cinnamon I get the taste of dirt. It needs to be cooked or something. Regardless, somewhere under that cinnamon was a wheat beer with some pumpkin garnishment. Not bad at all.
Later on while still working on my hero, I got the Blue Point Toasted Lager, the local microbrewery. Fantastic area right? If there's one style I love, it's toasty Amber lagers. And this one did not dissapoint. Light malt, toast, but not quite English Muffiny like the Bud Am Ale. Loving it.
Great spot overall. We were looking for the steps where they hid the runaway slaves in the underground railroad, but they said you have to be in the brewhouse to see it. Oh well. I just love the spot, food was fantastic, very nice High 3 Star beer. Wish we could get some of that down here in Houston, though we'd probably have it an an old Plantation house or something.