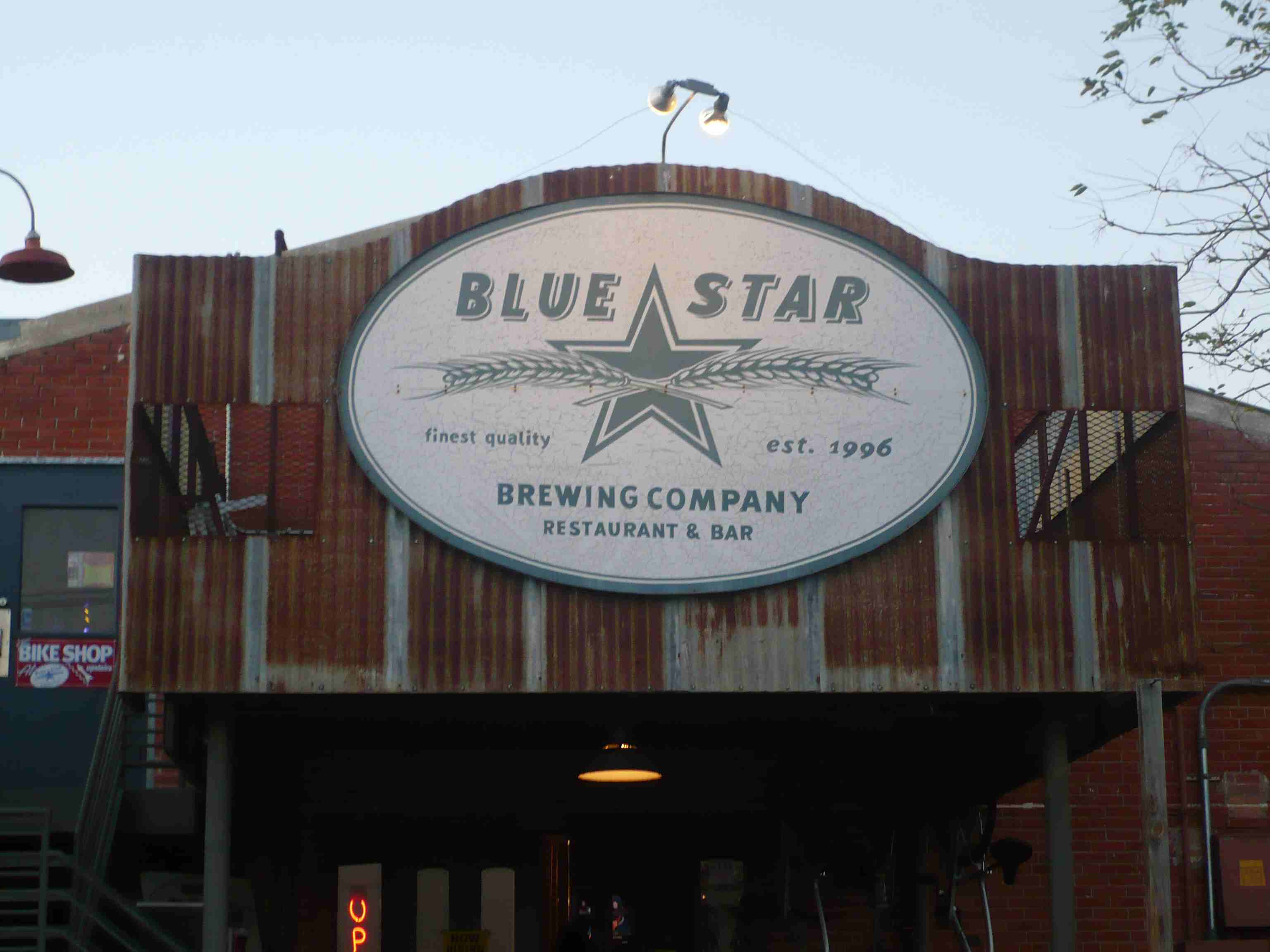 I'm clearing out the notebook and this review took place on January 2, 2009. We were still in San Antonio and wanted to hit the main brewpub in town,
Blue Star
. The night before we went to a kick-ass German club bar after the New Year. I had some German brews but did not have my beer book with me. We go to San Antone a few times a year, so I'm sure we'll be back.
Anyway, we had wanted to hit Blue Star for a while. It's in a kind of artsy yuppie part of San Antonio. Kinda old buildings, a little grimy, mixed with New Age art museums and whatnot. Kinda like if you took The Heights in Houston and put it in a 4 block area. We damn near passed it the first time, but finally got in there.
Beer Log: January 2, 2009
State: Chillin, hoping the baby does not start freakin out, ready for some beer tastings
The decor was pretty funky, with the brewing equipment right there in plain view. It has a lot of junk as decor as any good beer bar will do. I order a turkey sandwich and fries, and then hit the 3 oz tasters. Before I begin, that picture is not a misprint. These cats have a LIVE ASS BIKE REPAIR SHOP in the back. Come get a beer, and get your Ten Speed tuned up. And we used to laugh at Roscoe's Chicken and Waffles.
Golden
Straw color and clear. No real smell to it. It has a nice breadiness to it with some moderate hops. It leaves an icky bitter aftertaste like a pilsner. Very smooth. 2-3 Star.
Texas Lambic
I didn't know Texas had lambics. It has a copper color and is cloudy. It smells like cherries. It has a sour cherry taste that is kind of overpowering. I'm still working on the sour beers. It sneaks in a touch of bread in the aftertaste. No Sir. 1-2Star.
I'm giving some bad reviews to these sour beers, but I think this is an acquired taste on top of the acquired taste of beer. I remember a couple years ago it took all I had to drink a hoppy pale ale. Now I use a Pale Ale as mouthwash. Speaking of which...
Pale Ale
Lighter copper color with a touch of opaqueness. Light citrus hop smell. The taste is bready and hoppy, a citrus hop. The finish is a little long for my taste in the bitterness. It rather smooth otherwise, but those hops are not well balanced by the malt. It could be better with the right food, but right now, it's ai'ight. Low 3 Star.
IPA
There is some nose of hops. Let's start drankin. It's more balanced with malt than the Pale Ale, but not much in the way of flavor. It's very smooth and full bodied. There is some hops on the aftertaste, though not that good. I would say looking back that this is probably more of an English IPA. I held off on the ranking though.
Cask IPA
Really looking forward to this one. Light copper color with a stronger malt smell than the regular IPA. Very smooth and medium bodied. Again it's not very aggressively hopped but just more balanced. Low 3 Star.
The Spinach Artichoke dip has arrived...
Wheathead
Something has to be said for putting some creativity in the name. After some chips to cleanse the palette, I hit this wheat beer. It's got a tinged old gold color that is cloudy. I'm getting a little orange and banana on the nose. The taste is like light orange. Very nice filling body, but not much on the flavor here. It's okay. Low 3 Star.
I'm starting think Blue Star is more designed to quench thirst in the arid climate in San Antonio in the summer time. We'll have to hit these guys again during Festival and give it another shot.
Stout
Black with an offwhite nitro creamy head. Light notes of chocolate and coffee on the nose, and then the same on the taste. Full smooth body with low hops and carbonation. There is a little citrus in the back of that chocolate. 3 Star.
Barley Wine King William MMVIII
With that mouthful of a name, I'm expecting a great English style barley wine. Copper color again and cloudy. Oh yeah, there is some strong malt and fruitiness. Low carbonation and hops. It seems to be of the right age and whatnot. Certainly English style and rather sweet. It is a good sipping beer and some noticeable alcohol. 3 Stars.
Blue Star was not bad, and had a nice array of beers. I could tell there are some house characteristics, like copper color and hints of flavors. It's the middle of winter and I am in the mood for "bigger" beers. But Blue Star will get it done in the summer.
Top 3 Beers
3. Golden, I think that pilsner did pretty well, though I gave it a low 3.
2. King William
and the winner
1. Stout
I find that when I'm brewpubbing and looking for flavor, the stouts and porters usually deliver. In these parts, you go too high on the alcohol and malt at one of the 8 million patio bars, you're gonna have people passing out all over the place. So it seems the brewers go harder on the stouts and porters, even casual beer drinkers associate dark beers with bigger bodies and flavors, if any of that made sense.
But I really enjoy going to San Antonio. Just the compactness of it all compared to Houston is a welcome change. Not to mention the awesome culture. Sometimes you feel like you're in a small Mexican town in the 1800s (which you kinda are). Can't beat it with a stick. Especially when you throw in that you can drink beer on the street. What more do you need?