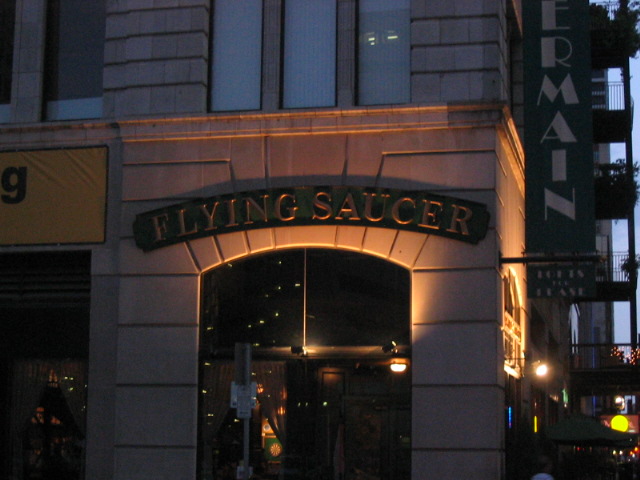 I'm sitting here on a Sunday night enjoying a nice Fat Tire straight out of the bottle while watching Alton Brown cook with beer and wine on Good Eats. I would say it doesn't get much better than this if it weren't for having to go to work tomorrow and bust ass. But we gotta GET THAT OIL!
This was a pretty nice weekend with a Friday night of hanging out with the boys at the ol' Flying Saucer. A few friends of mine took their PE Licensing exam that day, so they're good to go. I know we did some serious bar hopping after I took the exam, and actually took it pretty easy when I passed the exam
(seeing as how we're all Professional now)
. I didn't really feel like writing, but had an EXCELLENT
Flying Dog Double Dog.
Imperial style ale, with a fantastic strong hop and syrup-caramel malt. The carbo cut it just right for a 4 star beer. Before that, I managed to take down a very nice
Bear Republic Late Harvest.
Fantastic maltiness with a hint of roast and hop. Kinda like a nice sweet muffin or something. Probably the best Late Harvest beer I've had before, assuming we want to call LH it's own style. High 3 Stars.
Afterward, we took the classiness up a notch and made our way to Downing Street Pub, the absolute best cigar bar in Houston with a
great selection of beer.
On a Friday evening there were still some tables available (always a seat somewhere), so I grabbed my Romeo y Julieta and ordered up a Chimay Blue. I've had Chimay White with a cigar at this spot and it wasn't quite right. But this time the Blue managed some great staying power against the cigar flavor. Gave me that great fruitiness, alcs, and a hint of sour the entire time. I got a Chimay Red as well and it just didn't stand up at all. Oh well.
We finished things off at the Gingerman where I just drank water and talked smack, though I saw PLENTY of beer on the chalkboard I'd never heard of before. Awesome.
The beer scene in Houston is ratcheting up, as they are now having beer events at wine spots, hotels, and steakhouses. Fantastic. We're getting there, just need to get some brewpubs going and we're in there.
Saturday night we tapped the birthday beer for the wife. It was not carbonated yet so I forced it and served around. Things were going great. A few friends came over for the UFC fight, an event which I called "Dontoberfest". Too bad that I missed that the U of Houston homecoming was that same day, or I would have had my party sometime later and gone to the game. Or at least tailgated.
Today the Texans won despite their best efforts to lose the game. Had a nice IPA at the stadium while talking smack to the Niners fans. Actually, I didn't have to talk smack, they were losing the entire time. Just a fun time, but we cut it short. Just in time to get the phone calls that Monday is going to be a very busy day at the office. Maybe should crack open a bomber tonight.